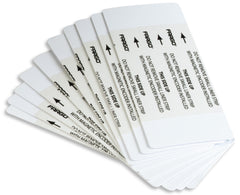 FARGO® Adhesive Cleaning Cards 086131
Pack of 50 double-sided adhesive cleaning cards.
Price is per 1 pack of 50 cards.
Part Number: 086131
It is highly recommended to clean your FARGO® ID Card Printer & Encoder often, to ensure optimal cleanliness within the printer, at the very minimum when you change your colour ribbon.
Dust within your FARGO® printer does not help, and this card will eliminate a great amount of lose dust and particles, being adhesive on both sides, cleaning the rollers along both the top and bottom tracks.
This double-sided adhesive cleaning card can be used with the following FARGO® ID Card Printers & Encoders:
FARGO® C50 Plastic ID Card Printer
FARGO® DTC1000Me Monochrome ID Card Printer & Encoder
FARGO® DTC1000 ID Direct-to-Card Printer & Encoder
FARGO® DTC1250e ID Direct-to-Card Printer & Encoder
FARGO® DTC550 Series ID Card Printer & Encoder
FARGO® DTC400 ID Card Printer & Encoder
FARGO® DTC400e ID Card Printer & Encoder
FARGO® DTC4000 ID Card Printer & Encoder
FARGO® DTC4250e ID Card Printer & Encoder
FARGO® DTC4500 High Capacity Plastic Card Printer & Encoder
FARGO® DTC4500e High Capacity Plastic Card Printer & Encoder
FARGO® HDP5000 ID Card Printer & Encoder
FARGO® HDPii Plus ID Card Printer & Encoder