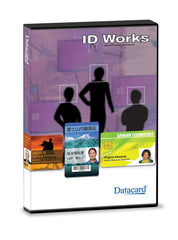 Datacard® ID Works® Standard v6.5 Identification Software 571897-003
Datacard® ID Works® Standard v6.5 Identification Software.
Includes modules Administrator, Designer, Production, and Reporting.
Includes 1 Case with DVD and 1 USB Security License Key.
Part Number: 571897-003
With separate packages for design, production, reporting and administration, ID Works Standard identification software lets you distribute tasks effectively and pay only for the features you need at each workstation.
 Datacard® ID Works® Standard v6.5 Software Overview
Advanced software for your ID card program
Datacard® ID Works® Standard identification software delivers a user-friendly set of tools for fast and flexible card design, simple yet secure card production or a combination of these capabilities.  Discrete packages for design and production allow you to manage these functions at separate workstations.
Powerful, modular platform
Intuitive design tools.  With ID Works Standard Designer software, you can design cards, reports and production forms quickly and easily. Shape drawing, transparent backgrounds and ghost images help customize cards.  The software also allows you to integrate production forms with ODBC-compliant, multiple-table databases.
Enhanced operational productivity. ID Works Standard Production software makes it easy to capture images, enter and retrieve data and print cards and reports separately from the design package.  User-friendly features include predefined list fields, drop-down menus and data-driven card selection.  The software also offers smart card support (proximity plug-in) to simplify smart card personalization management.
Smooth integration. The software leverages a wide range of Datacard® desktop card printers, including Datacard® SP Plus Series card printers, as well as many other brands.  It also supports Datacard® Tru™ Photo solutions for image capture and the Tru™ Signature solution for signature capture.
For more product details and benefits, please review the following Brochures and Videos. 
Datacard® ID Works® Standard v6.5 Identification Software Brochure (PDF)
Datacard® School ID Systems Brochure (PDF)
Datacard® ID Solutions Guide (PDF)
CLICK HERE to watch the Datacard® Desktop ID Solutions Video