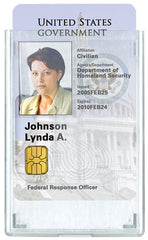 CardProtector™ Rigid Shielded Two-Card Holder 1840-5081
The new CardProtectors™ rigid shielded holder protects personal information on contactless credit cards and debit cards, or any 13.56 MHz RFID technology card including MIFARE, iClass, PIV, CAC, TWIC and FRAC cards.
Inset Size 3 3/8" x 2 1/8" (86 x 54mm).
Quantities of 50.
Price is per 50 holders.
Part Number: 1840-5081
This rigid holder protects a smart card from unauthorized data theft known as "skimming" while still displaying the face of your card and allowing for easy removal.
Protects a 13.56 MHz RFID card, including MIFARE, iClass, PIV, TWIC and FRAC 

Design allows for horizontal or vertical display, while slot and chain holes make attachment easy

FIPS 201 APPROVED

Proudly made in the USA, meeting the Buy America and Trade Agreement Acts