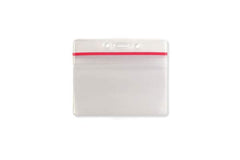 Clear Soft Vinyl Anti-Print Transfer Horizontal Badge Holder w/ Zipper Closure 506-ZHOSJ
Anti-print transfer, clear soft vinyl horizontal badge holder, with zipper closure.
Keeps dirt and moisture away from your ID or access card.
Slot and chain holes to wear with a lanyard, neck chains, badge reels, or a strap clip.
Insert size: 3 5/8" x 2 1/2".
Quantities of 100.
Price is per 100.
Part Number: 506-ZHOSJ