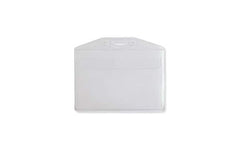 Clear Soft Vinyl Horizontal Badge Holder w/ Fold-Over Flap 506-43FS
Clear vinyl horizontal badge holder with fold-over flap.
Flap closure allows easy access to your ID card, and keeps dirt and moisture away from your ID or access card.
Insert size: 3 7/8" x 2 3/8" 
Quantities of 100.
Price is per 100.
Part Number: 506-43FS