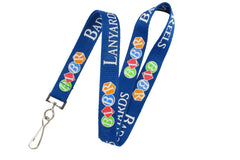 Custom Designed and Printed Lanyards
IDCardsCanada works with manufacturers who create custom lanyard supplies to your exact specifications and requests.
From simple printed logos or text on to standard 3/8" and 5/8" wide lanyards, to full color inside and out 3/4", 1" and even 2" wide lanyards, with the most awesome creative designs.

We make custom lanyards for your small and large businesses; departments within our Canadian Government; special events and festivals of any type and volume; and whoever you are that simply would like to have your own brand and look, for whatever the occasion.