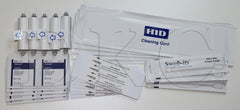 Custom FARGO HDP Card Printer Cleaning Kit FAR-HDP-KIT
Our Custom FARGO HDP Series Card Printer Cleaning Kit includes:
(3) Adhesive Cleaning Rollers
(3) Long Alcohol Cards
(10) Double Sided Adhesive Cards
(10) Alcohol Wipes
(4) Printhead Cleaning Swabs
For use with FARGO HDP5000 and HDPii Series printers.
Part Number: FAR-HDP-KIT
This is a custom designed cleaning kit by DKC Associates to provide you with more cleaning items, in quantity, and also additional items that the Fargo cleaning kit (Fargo 089200) does not offer. 
Avoid printer downtime and problems.  
The best preventative maintenance, is to clean your printer.
Not only does cleaning your card printer take out dirt and dust and debris, but it keeps the rubber rollers tacky, so cards do not slip throughout the printing process, and ensure clean crisp printed images.
Use this cleaning kit with your FARGO® HDP5000 card printer, and FARGO® HDPii card printer.
Our custom cleaning kit replaces the HID Fargo 89200 cleaning kit, offering more for less.
If you are unsure about proper cleaning procedures, please
Contact Us
, and a certified HID/Fargo Sales or Service Associate will be happy to provide you with the proper instruction.