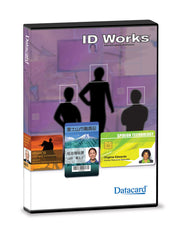 Datacard® ID Works® Basic v6.5 Identification Software 571897-002
Datacard® ID Works® Basic v6.5 Identification Software.
Includes modules Administrator, Designer, Production, and Reporting.
Includes 1 Case with DVD and 1 USB Security License Key.
Part Number: 571897-002
Designed for traditional ID programs, ID Works Basic identification software provides everything you need to ensure easy, efficient program management.
 Datacard® ID Works® Basic v6.5 Software Overview
Essential tools for card design, production and management
Datacard® ID Works® Basic identification software includes the core tools that ID programs need to manage card design and production efficiently, as well as excellent flexibility for creating cards and handling images.  It also allows you to easily upgrade to Datacard® ID Works® Standard or Enterprise software as your needs change.
Proven capabilities, effective performance
Powerful ID program management.  This software package enables you to create card and report designs, as well as manage image capture and printing.  It introduces basic security features, such as a ghost option for the photo field.  You can import and export data from Microsoft® Access databases, encode magnetic stripes and print bar codes.  You can also create your own layout, field labels, color and graphics in production forms.
Flexible integration.  The application leverages all the features of Datacard® SD Series or SP Plus Series card printers, and integrates seamlessly with many other printer brands.  It supports Datacard® Tru™ Photo solutions, as well as TWAIN and Video for Windows image capture devices. 
Intuitive interface.  The user-friendly interface features point-and-click navigation to simplify card design and production.  Customizable sample templates and online documentation quickly turn new users into experts.
For more product details and benefits, please review the following Brochures and Videos. 
Datacard® ID Works® Basic v6.5 Identification Software Brochure (PDF)
Datacard® School ID Systems Brochure (PDF)
Datacard® ID Solutions Guide (PDF)
CLICK HERE to watch the Datacard® Desktop ID Solutions Video