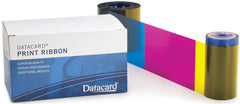 Datacard SD/SP YMCKT 500 Color Ribbon 534000-003 - NO LONGER AVAILABLE
Full-color ribbon with resin black and clear topcoat panel.
Box contains 1 ribbon, 1 alcohol cleaning card, and 1 cleaning roller.
For use with Datacard SD & SP series card printers: Datacard SP35, Datacard SP55, Datacard SD260, Datacard SD360.
500 prints per roll.
Part Number: 534000-003
Item no longer available.
Replaced with PN: 534700-004-R010