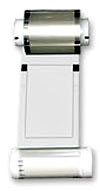 FARGO PolyGuard 1.0 mil Clear Overlaminate FAR-81789-MISC CLEARANCE
FARGO PolyGuard 1.0 mil clear overlaminate.
250 laminate patches per roll.
Price is per 1 roll of laminate.
Current Quantity = 33
Part Number: FAR-81789-MISC
CLEARANCE ALERT...LOG IN for your Clearance Price
These laminates are from old stock, therefore priced extremely low to sell.  We offer NO Garantie these will provide 100% perfect results, as a new roll of laminate would.  Final Sale, No Returns or Refunds.
This Fargo laminate will work with the following Fargo card printers with lamination:
Fargo DTC515-LC Plastic Card Printer with Lamination Module

Fargo

DTC525-LC Plastic Card Printer with Lamination Module

Fargo

DTC550-LC Plastic Card Printer with Lamination Module

Fargo

HDP600-LC Plastic Card Printer with Lamination Module

Fargo

HDP820-LC Plastic Card Printer with Lamination Module

Fargo

HDP825-LC Plastic Card Printer with Lamination Module

Fargo

Pro-LX Plastic Card Printer with Lamination Module

Fargo

Pro-L Plastic Card Printer with Lamination Module

Fargo

Cheetah II Plastic Card Printer with Lamination Module

Fargo

Persona II Plastic Card Printer with Lamination Module