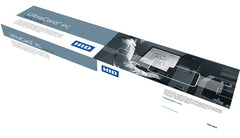 FARGO® UltraCard® PC Cards FAR-82289
CR80, 30 mil, Blank White 100% Polycarbonate card.
Boxes of 500 cards.
Price is per 500 cards.
Part Number: FAR-82289
UltraCard® PC is the ideal card for use with reverse transfer card printers, and laser engraving modules. Made of a 100% polycarbonate construction, UltraCard PC cards are fully compatible with laser engraving, which can be used to add a secure, counterfeit resistant and tamper-evident layer of security to your card personalization. UltraCard PC cards are highly durable and offer a longer expected card life than other common card types like standard PVC and even composite (PVC/PET) .
Use ONLY with reverse transfer card printers, such as the Fargo HDP5000 and Fargo HDP8500 card printers.
Perfect for use with the FARGO® HDP8500LE Industrial Card Laser Engraver module.
These cards are not compatible with DTC (direct-to-card) printers.
Fargo / HID Global UltraCard® Non-Technology Card Brochure (PDF)