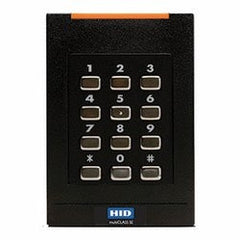 HID Global RPK40 multiCLASS SE® Reader with Keypad 921PTNNEK00000
Contactless Smart Card Reader, Finished Reader, Wall Switch Keypad, Wiegand, Clock-and-Data, OSDP, Pigtail, Terminal Strip, Black.
Does not include installation. Please ask for this option if required.

Price is per 1 reader.
Part Number: 921PTNNEK00000 
Please Contact Us for your Preferred Client Pricing and Custom Quotation
multiCLASS SE® readers simplify migration from legacy technologies with support 125 kHz for HID Prox, Indala, AWID and EM4102, and provide customers the assurance that their existing investments can be leveraged to enhance their system as business requirements change.
ƒPowerfully Secure - Provides layered security beyond the card media for added protection to identity data using SIOs.
Adaptable - Interoperable with a growing range of technologies (iCLASS® Seos™ and iCLASS SE® credential platforms, standard iCLASS®, MIFARE®, and MIFARE® DESFire® EV1 with custom data models) and form factors including mobile devices utilizing Seos™.
Interoperable - Open Supervised Device Protocol (OSDP) for secure, bidirectional communication.
Streamlined Migration - Support for 125 kHz HID Prox®, Indala®, AWID and EM4102 for seamless migration; field programmable for secure upgrades and extended lifecycle.