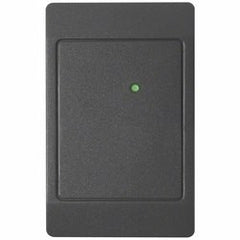 HID Global ThinLine II® 5395 Proximity Card Reader 5395CG100
125 kHz Transmit Frequency, Wiegand interface.
Does not include installation.  Please ask for this option if required.
Price is per 1 reader.
Part Number: 5395CG100 
Please Contact Us for your Preferred Client Pricing and Custom Quotation
Providing performance and reliability, HID's attractive, unobtrusive ThinLine® II proximity card reader is housed in a two-piece, weatherproof secure potted enclosure.
ƒEasily installed and maintained with the use of replaceable covers

ƒƒAvailable with a Wiegand or Clock-and-Data interface

ƒƒProvides high reliability, consistent read range and low power consumption

ƒƒFeatures include multicolor LED and internal control or host control of the LED and beeper

ƒƒMounts directly on metal with minimal impact on the read range performance

ƒƒAesthetic design available in two cover designs and four colors to match any décor

ƒƒIncludes multilingual installation manual

Security - Recognizes card formats up to 85 bits, with over 137 billion unique codes.
ƒƒAudiovisual Indication - A red LED flashes green and the beeper sounds when reader is presented with a proximity card. The multicolor LED and beeper can also be controlled individually by
the host system.
Diagnostics - On reader power-up, an internal self-test routine checks and verifies the setup configuration, determines the internal or external control of the LED and beeper, and initializes
reader operation. An additional external loop-back test allows for the reader outputs and inputs to be verified without the use of additional test equipment.
Indoor/outdoor Design - Sealed in a rugged, weatherized polycarbonate enclosure designed to withstand harsh environments, providing reliable performance and a high degree of vandal resistance.
ƒƒEasily Interfaced - Wiegand output model interfaces with all existing Wiegand protocol access control systems. Clock-and-Data (magnetic stripe) model interfaces with most systems that accept magnetic stripe readers.
Options - LED and beeper operation
HID Global ThinLine II® 5395 Reader DataSheet (PDF)