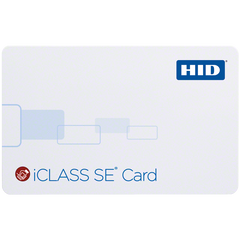 HID® iCLASS SE® 300x Smart Card 3000PGGMN
High Frequency Contactless SIO-Enabled (Secure Identity Object™) Smart Card for Securing Identities and physical access.
Printable using direct to card (DTC) printers and thermal transfer (retransfer) printers.
Most common configuration is 3000PGGMN:
300 Standard PVC
0 - 2k Bits (256 Bytes) with 2 Application Areas (iCLASS Memory Size and Allocation)
P - Programmed with Security Identity Object (SIO)
G - Plain White with Gloss Finish (Front Packaging)
G - Plain White with Gloss Finish (Back Packaging)
M - Sequential Matching Encoded/Printed (Card Numbering)
N - No Slot Punch. This card can be slotted vertically, Printed Vertical Slot Indicators
Please Contact Us for specific card options and pricing

Next-Generation High-Frequency Contactless Smart Card PVC Cards 300X • Composite PVC/PET cards 305X
Supports Secure Identity Object™ (SIO) – Multi-layered security beyond the card technology, providing added protection to identity data.
Trusted Identity Platform® (TIP™) enabled – Provides trusted identity within a secure ecosystem of interoperable products.
Supports future growth – iCLASS® 13.56 MHz read/write contactless smart card technology with multiple, securely separated files enables multiple applications for future growth.
Flexible configurations – Available in 2k bit, 16k bit or 32k bit with ability to add a magnetic stripe/barcode and anti-counterfeiting features (custom artwork and photo ID). 
Please refer to the HID Global Readers and Credentials How To Order Guide for a complete list of options on the HID® iCLASS SE® 300x Smart Card (PDF)
HID® iCLASS SE® 300x CardDatasheet (PDF)
HID Global Technology Card Guide (PDF)