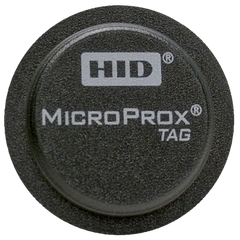 HID® Proximity MicroProx® Tag 1391xxxxx
HID® Global Proximity 1391 MicroProx® Tags.
26 bit card, MicroProx® proximity access tag with peel-off self-adhesive back.
Most common configuration is 1391LSSMN:
L - Programmed, Low Frequency (125 kHz)
S - Gray with HID Standard Artwork 
S - Adhesive Backing
M - Sequential Matching Encoded/Printed (Inkjetted)
N - No Slot Punch
Contact Us for specific credential options and pricing
LOW FREQUENCY PROXIMITY TAG WITH ADHESIVE BACK
Proven, Reliable Technology – Offers extremely consistent read range. Unaffected by body shielding or variable environmental conditions, even when close to keys and coins.
Long Life – Passive, no-battery design allows for an infinite number of reads.
Radio frequency proximity support – Includes read/write identification using 125 kHz contactless technology for support in existing RFID deployments
Key Features of the Proximity Adhesive Tag:
The size of a coin ( 1.285" / 3.264 cm), the Tag easily attaches to all nonmetallic materials and instantly becomes a proximity card.
The Tag can be programmed in any HID proximity format, and is compatible with all HID proximity card readers.
The Tag is RF-programmable for ease of encoding with HID's ProxProgrammer®.
HID® Proximity 1391 MicroProx® Tag Data Sheet
HID® Prox Credentials Comparison Chart