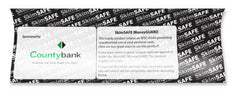 SkimSAFE™ MoneyGuard 153035
Protect RFID-enabled cards such as Credit Cards and Bank Cards from unauthorized skimming and identity theft, using 1 single sleeve, in a wallet or purse or handbag.
Quantity of 1.
Price is for 1 sleeve.
Part Number: 153035
Simply slide SkimSAFE™ MoneyGuard into your wallet or purse to protect contactless RFID-enabled cards from being copied or skimmed. Whenever you change your wallet or handbag, jsut take the SkimSAFE MoneyGuard with you. It's that simple!

SkimSAFE™ MoneyGuard Features

Fits the lining of wallets, purses and handbags

Government-grade RFID blocking technology

Thin and durable materials, flexible RFID-Shielded laminated paper

Protects contactless cards such as credit cards, bank cards, membership cards, and passports

Perforated card-size piece can be torn out and wrapped onto a credit or debit card for individual card 

protection

Available in multiple colors

Custom Printing is available (monochrome 1 color, or full color printing.  Imprint area: 2.125" x 3.375" (2 imprint areas).  Please

Contact Us

for this option

South Carolina Made, U.S.A.
Watch this video on how SkimSAFE™ MoneyGuard works and can help you keep peace of mind in keeping your wallet and purse safe from card skimmers.