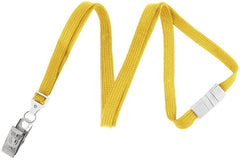 Yellow Breakaway Lanyard with Bulldog Clip 2137-6009 CLEARANCE
3/8" (10 mm) width, 36" (914 mm) length, Yellow color flat braid breakaway woven lanyard, with a universal slide adapter, and NPS (nickel-plated steel) bulldog clip attachment.
Lanyard is both comfortable and discreet to wear.
Quantities of 100.
Price is per 100 lanyards.
Current Quantity = 200
Part Number: 2137-6009
CLEARANCE ALERT...LOG IN for your Clearance Price
These lanyards are from old stock, therefore priced extremely low to sell.  Final Sale, No Returns or Refunds.