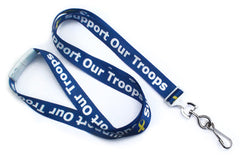 Yellow Ribbon "Support Our Troops" Lanyard 2138-5255
5/8" (16 mm) width, 36" (914 mm) length, Blue color flat lanyard with white Breakaway clasp for security, and NPS (Nickel-Plated Steel) swivel hook attachment.
"Support Our Troops" and Yellow Ribbon imprint is dye sublimated, and lanyard material has a silky feel to it.
Show spirit with these patriotic lanyards.
Quantities of 100.
Price per 100 lanyards.
Part Number: 2138-5255