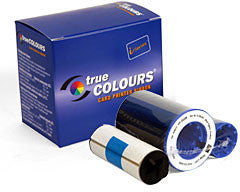 Zebra C Series YMCKO Color Ribbon 800015-340
YMCKO full-color ribbon with resin black and clear overlay panels.
For printing full color on card front and/or card back.
Box contains 1 ribbon and 1 adhesive cleaning roller.
For use with Zebra C series printers, including Zebra P310C, Zebra P420C, Zebra P520C, and Zebra P720C.
350 prints per roll.
Part Number: 800015-340